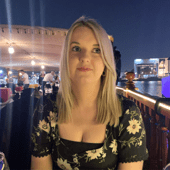 Emily Fielding
Global Supply Executive – Global Supply
I joined Iglu in 2016 as a Customer Care Executive and was quickly promoted to a senior member of the team, which was a role that I was in for around 2 years. After building my knowledge and experience within our Customer Care team, I then began assisting our Customer Relations Team with a project and became more involved in the post-cruise side of the business. 
After juggling aspects of both roles for some time, a full-time role became available in our Customer Relations Team and I took the opportunity to change my path and join this team full time. 
As part of my role within our Customer Relations Team, I am responsible for handling all post-cruise queries. This includes liaising with customers and suppliers to bring a resolution to any complaints that are raised when our customers have returned from their holidays. It is important within my role to be able to ensure that any concerns raised are fully resolved and that our customers feel happy and confident to book with us again. This is something I take great pride in!
I am also often found assisting other team members with handling our Social Media channels and assisting with aspects of legal resolution work and I enjoy the variety that each day brings.