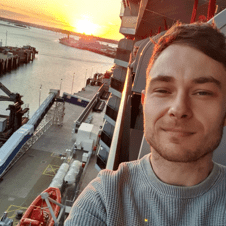 Kyle
Onboarding Team Leader – Training
My name is Kyle and Im the DryDock Manager, You'll join me once you've completed your Induction where we will put everything you've learned in your Induction into practice.
We know that starting in a new environment can be both exciting and a bit nerve-wracking. Rest assured, we are a company of friendly faces and kind hearts. Our team is like a close-knit tribe, always ready to lend a helping hand and support one another through every journey, both personally and professionally.
As you settle in, you'll discover that learning and growth are at the core of our culture. We provide ample opportunities for training and development, enabling you to hone your talents and expand your knowledge of the travel industry. Your growth is our growth, and we are invested in nurturing your potential.

I can honestly say I love my role here at Iglu and if you're looking to join a team that feels like family then you're heading in the right direction - go on, hit the apply button!