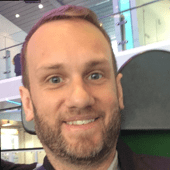 Peter Radford
Compliance and Legal Resolution Manager – Operations Management
Having entered the travel industry quite by accident at the turn of the century, I haven't looked back. I started my career handling post travel correspondence at one of the ski operators, and jumped at the opportunity to join Iglu in 2006 in a similar role.
I was immediately struck by the dedication of the team and realised very quickly that Iglu was on an incredible journey; one that continues today. I'm incredibly grateful for the opportunities that have come my way which includes wonderful hospitality from our cruise line and ski partners, presenting to my peers at industry events and the chance to work from my native Nottinghamshire.
At work, I love nothing more than helping my colleagues throughout the business make sense of travel law and regulations, and when that gets too much, sharing my thoughts and hearing the views of others on books, football, music and outdoor life.