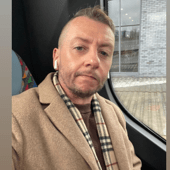 Mark Burke
Retention Manager – Customer Operations
I have been in the Travel Industry since 1999 and started my travel career with Airtours holidays. It was during my time there that I developed the 'Cruise Bug' and worked within the cruise department as a Sales Agent.
After a few changes within the company, I started working for home as a Cruise Sales Agent. In 2021 I returned to Iglu as a Cruise Sales Agent and to say my time here since then has been a whirlwind is an understatement! I progressed to Retention Sales Agent, then Retention Team Leader before my current role, Retention Manager in July 2022.
My main focus is customer retention, leading a team to ensure we retain as many customers as possible in the event of cruise line cancellations and redeployments, and reducing the amount of customer cancellations.
The role is very fast paced, ever changing and and no two days are the same. I love the pressure and variety within the role, and I love ensuring we retain customers, but also making sure we have happy customers!